Screen resolution determines the size and clarity of the images and text on your screen. Higher resolutions like 1920 x 1080 make the images and text on your screen look smaller and clearer, while lower resolutions like 800 x 600 make it look larger. The resolutions available for your computer depend on the size of your screen and most screens have a recommended resolution for optimal performance.
Choosing a screen resolution with the wrong aspect ratio for your screen can cause the display to look stretched out or compressed. A widescreen display can have an aspect ratio of 16:9 (1280 x 720), while a full screen displays aspect ratio would be 4:3 (1280 x 960).
Here I will explain how to quickly and easily change the screen resolution on your laptop computer in the Windows XP, Vista and 7 operating systems.
Windows XP
Right-click on the desktop and click Properties
In the Display Properties window that opens click on the Settings tab.
Drag the Screen resolution slider left or right to select your desired resolution
Click Apply and click Yes to confirm the change
Click OK to close the window.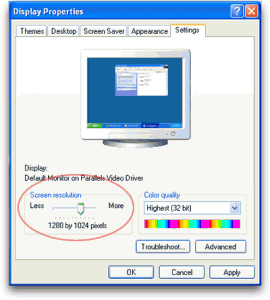 Windows Vista
Right-click on the desktop and click Personalize
Now choose Display Settings in the options that appear
Drag the Resolution slider left or right to select your desired resolution.
Click Apply and click Yes to keep the settings
Click OK to close the window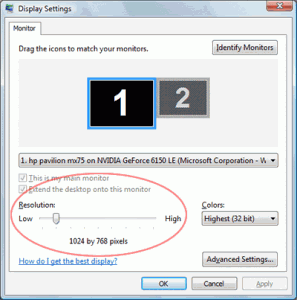 Windows 7
Right-click on the desktop and click Screen Resolution
In the window that opens click the Resolution drop down list and drag the slider up or down to select your desired resolution.
Click Apply and click Keep changes to keep the settings
Click OK to close the window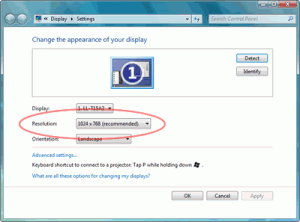 Tags:
screen resolution
,
windows